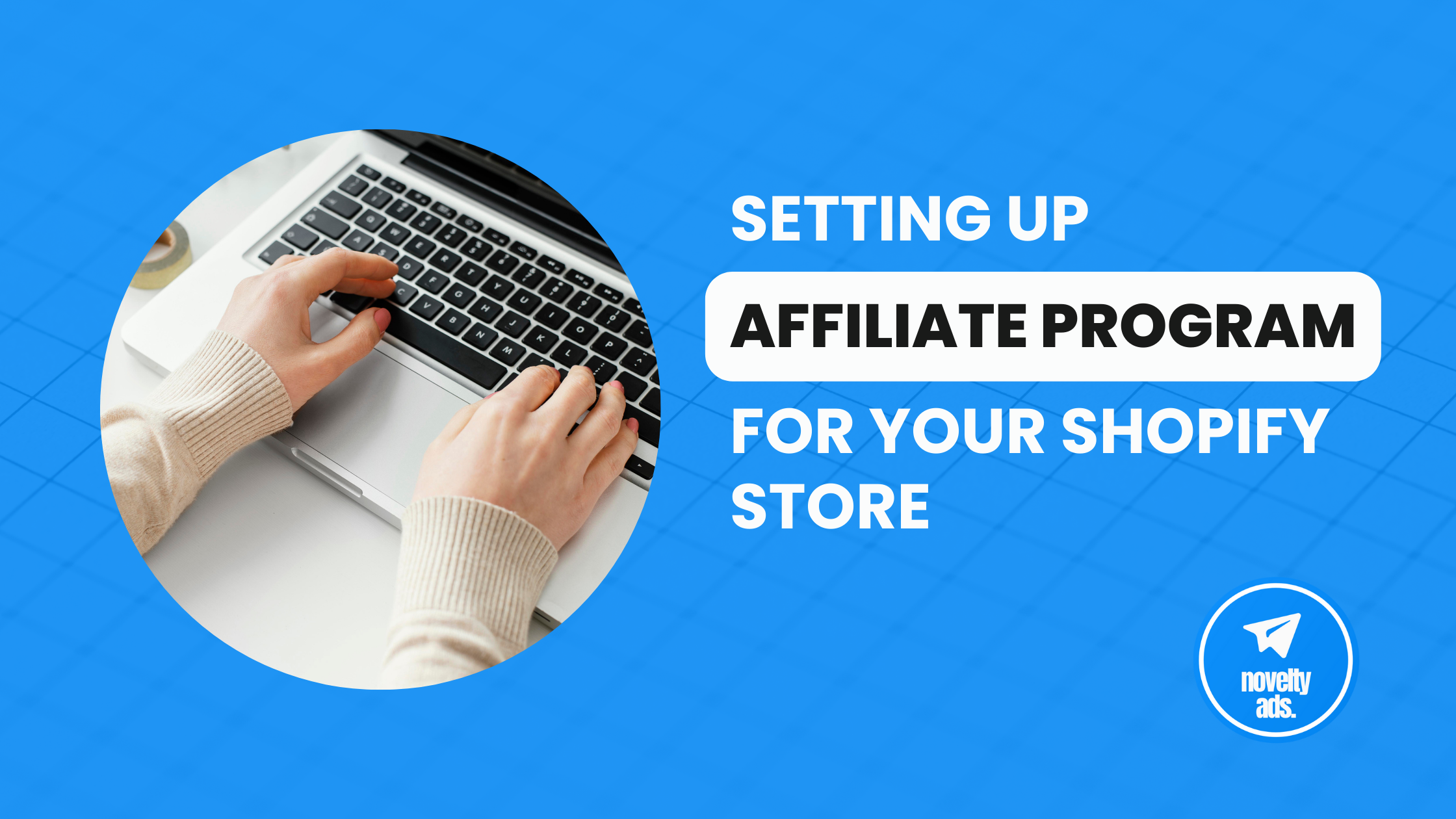 Introduction:
The emerging world order in the technological domain has gained a wide reputation and traction worldwide. Along with this, online marketing along with selling and purchasing has got attention of the customers who can just sell and purchase any product while sitting in their homes. Contrary to the old traditional ways of walking around the marketplace with a physical presence, one can now quickly pay and get the desired item online.

Out of many other platforms, one such is Shopify with its various branches hanging out so one can get advantage of. It can provide benefits to both the merchant and the consumer.

The Shopify Affiliate Program includes entrepreneurs, educators, influencers, and content creators who inspire and teach their audience about entrepreneurship with Shopify. It also includes others who refer their entrepreneurial audience to Shopify. The program is free to join and enables you to monetize your audience and earn commissions from each new Shopify merchant referral. As an affiliate, you can earn a commission for each user who signs up for a paid plan with your unique affiliate tracking link.
By following these steps, you should be able to create an effective affiliate marketing program that generates results for your Shopify store.
Choose the right products.

Set commission rates.

Select the Appropriate Affiliate Marketing App.

Find affiliates to partner with.
What is Affiliate Marketing?
Affiliate marketing, for modern businesses, has become a great tool/platform to increase their market reach and attract customers. By capitalizing on the existing audience of Shopify Affiliates, brands can quickly expand the number of potential customers they can reach.
In Affiliate Marketing, affiliate merchants(brands) incentivize affiliate marketers to promote their products by offering them a percentage of each sale generated by the link they provide. When users purchase products through the link, the affiliate earns a commission as a reward.
This link is what helps brands keep track of the traffic sent to their website and what allows affiliate marketers to get rewarded for the sale. This makes affiliate marketing an attractive domain for affiliate marketers as they only need to promote products and do not have to worry about developing, stocking, or shipping their own products.
Shopify, being the leading e-commerce platform, has 500000 businesses all across 175 countries. It makes absolute sense that Affiliate Marketing is a major component of our success. With Shopify's easy-to-use functionality, excellent customer support, and a vast array of useful features, it is a platform where many affiliates have found success.
How to Set Up a Successful Affiliate Marketing Program?
For having a successful Affiliate Marketing program, there are many steps/guidelines/procedures that must be done in order to get our desired marketing program going and successful as compared to others in the competition. The required guidelines for this to happen are mentioned below:
1. Decide on a Niche
The first step in any successful Affiliate Marketing strategy is to select a target market or audience, also known as a niche.
2. Create a Website
Once you decide on a niche, it's time to create a platform for your Affiliate Marketing campaigns. While there are many platforms to choose from, we recommend building your own website.
3. Customize Your Site
The design and customization process is important to add more personality and visual appeal to your affiliate website.
Here are four tips to follow when customizing your affiliate website:
Clear and compelling content.

High-quality visuals.

Choose a user-friendly design

 
4. Write Excellent Content
Poor content and careless affiliate link placements will not convert your audience into buying customers. A successful affiliate marketer prioritizes connecting and engaging with their existing audience to earn their trust. Therefore, creating valuable content that earns trust with your audience is a must.
5. Drive Traffic to Your Affiliate Website
Once you have a good amount of published content, it is time to drive traffic to your affiliate site. Doing so is necessary to generate leads, boost conversions, and attract potential customers. Creating an SEO strategy is a must. The higher your site appears on search engines, the more traffic you'll get. SEO includes keyword optimization, link building, and ensuring the site is mobile-friendly.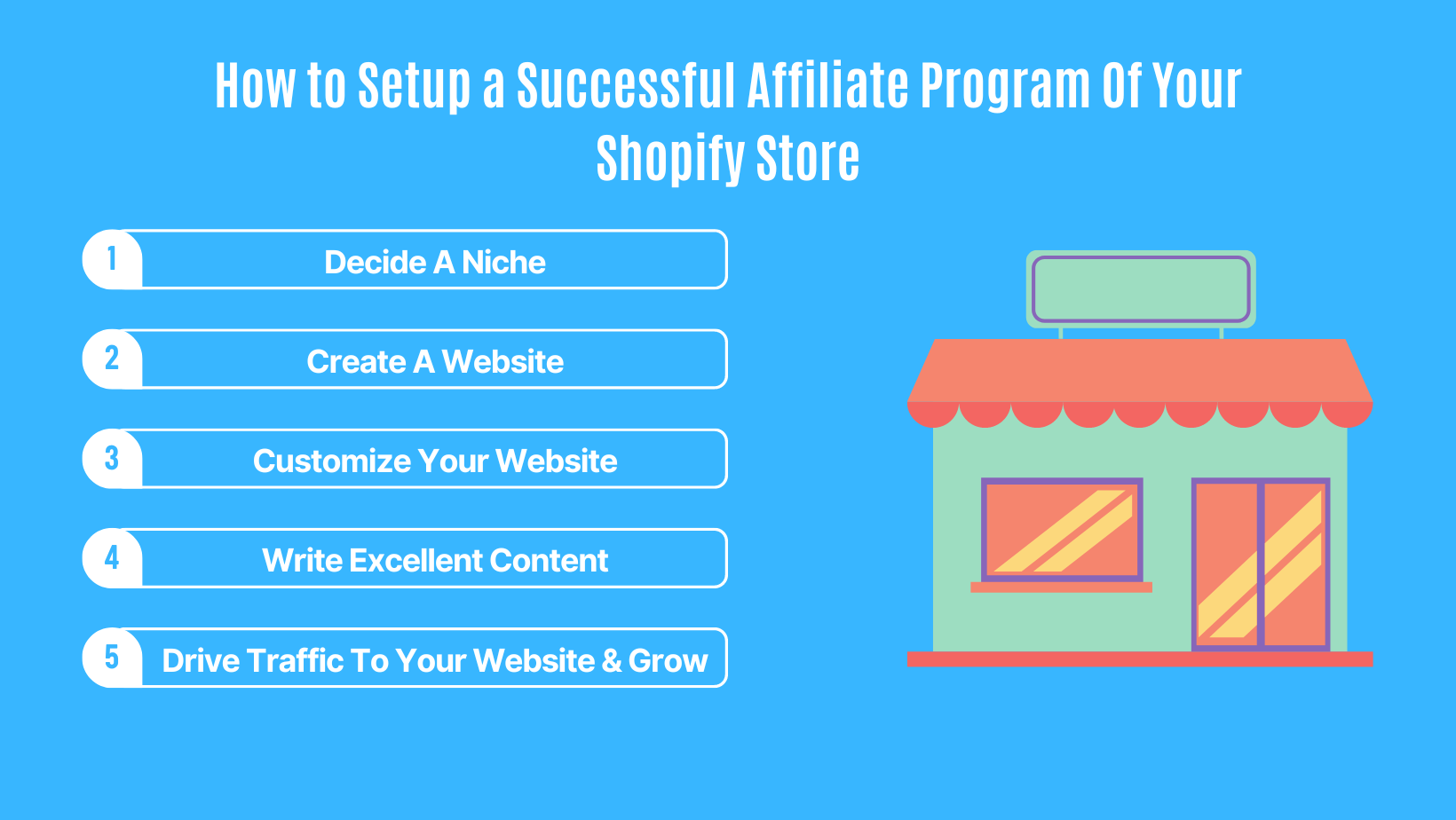 Choose an Affiliate Management App For Shopify:
You're a busy e-commerce business owner, and finding the best affiliate tools to improve your Shopify store takes time. As a result, we went ahead to complete the task on your behalf. The best affiliate applications for Shopify can help you grow your customer base by utilizing referral programs and affiliate marketing, i.e., a new money stream.
You can choose the best affiliate apps for Shopify by looking at the application store rating, the number of reviews, the application's top features, and other subjective characteristics.
Affiliate marketing has the advantage of being a win-win arrangement for both parties. Affiliates receive a reasonable commission for referred sales, clicks, or leads, while merchants benefit from a low-risk sales and marketing operation that can readily scale.
Some applications along with their pros and cons are discussed below:
1. Bixgrow
BixGrow allows access to tools to convert customers into brand ambassadors and gradually expand our network with unlimited referrals and commissions. Create unique coupons to track referral orders and customizable white-labeled emails for impactful multi-channel marketing.
Link:BixGrow
 Pros:
Easy to set up with convenient registration link-sharing options.

Robust referral and coupon tracking system with easy review options.

It has top-notch customer support service.
Cons:
There might be occasional glitches in the system.

Some merchants experienced bugs in the application (although they were quickly fixed).

The app fits small to medium businesses and might fail to meet the growing enterprise needs.
2. UpPromote
In the UpPromote application, referral orders will be automatically documented using precise and real-time tracking methods. The performance of the affiliates is assessed and visualized, with statistics on affiliate clicks, sales, orders, and purchased products. Link: UpPromote.com
Pros
Using PayPal to integrate allows you to automate payment processes for your affiliates in just a few clicks.

The application offers a range of features and tools to help recruit affiliates, track and reward their performance, and monitor the overall performance of the affiliate program.

An easy-to-use product that helps manage our affiliate channel.
Cons
UpPromote application settings are very confusing and time-consuming.

The on-boarded process was very challenging and we needed support for most of the process.

The application may have a cluttered or confusing UI, which could make it difficult for the affiliates to run it.
3. Refersion
Refersion allows you to make as many deals as you like with varied fee structures. Make the registration pages stand out by emphasizing the marketing platform available to brands and affiliates. Link: Refersion
Pros
Refersion makes keeping track of affiliate commissions and paying them out so easy.

This application is super easy to use.

Hassle-free signup and tracking of affiliates.
Cons
If you don't use the Refersion application, there are instances where money can be deducted from the account.

The platform is a little boring.

MailChimp is not syncing properly. Therefore, we have to manually export and import our affiliates in order to send them mass emails through MailChimp.
In LeadDyno Affiliate Marketing from a single dashboard, you can track orders from discounts, referral links, social network shares, landing pages, and paid ads.
In a matter of minutes, you'll be able to onboard affiliates. Affiliates get access to a branded dashboard with all of the tools they need to market our company. Upload shared content quickly and effortlessly. Link: LeadDyno
Pros
LeadDyno is an excellent program, nice and simple with a wide range of capabilities.

Easy for influencers to use.

Reasonable pricing.
Cons
Due to the billing methods of LeadDyno, it doesn't work at all for the customer's needs.

The customer service is horrible.

The dashboard seems not very user-friendly. So, more time is spent finding options, etc.
5. Affiliatly Affiliate Marketing
Using Affiliatly affiliate marketing, our affiliates will promote our shop for you, boosting your revenues. In addition to affiliate marketing, Affiliatly also helps boost customer confidence and is easily one of the best Shopify apps to increase sales.
Link: Affiliatly.com
Pros
Affiliate Marketing has one of the best Customer Services.

We have no limitations on referrals or visitors.

Customizable commission structure, applicable to all affiliates or specific ones.
Cons
Affiliate Marketing apps are glitchy sometimes.

A lot of glitches and server issues.

It is very confusing to initially learn about the application.
So, every application has its own pros and cons. Affiliates can choose any Affiliate marketing Applications as per their demands and feasibility.
Starting prices of the Affiliate's Applications and their comparison:
Bixgrow = Free
UpPromote = Free
Refersion = $99/month
LeadDyno Affiliate Marketing = $49/month
Affiliately Affiliate Marketing = $16/month
How and where to find Affiliates?
There are many platforms from where Affiliate Marketers can be found. To find them one must have to follow certain steps in order to reach them. More or less there are 12 ways to find an Affiliate Marketer. These are:
Google relevant keywords.

Join affiliate networks.

Join online groups and forums.

Use SEO tools.

Leverage your website.

Network at events.

Use social media.

Send products to bloggers and influencers.

Put out ads.

Message your regular customers.

Sign up to an affiliate agency.

Hire an affiliate manager.
The key to successful affiliate marketing is to make sure your affiliates share your audience and can send you high-quality leads. It's much better to have a few quality affiliates than to waste your energy on a large number of affiliates who may have a large following but don't perform as well.
How to measure the success of your Affiliate Marketing Program?
There are basically six modules that can portray the results of an Affiliate Marketing Program. The success or failure depends on the factors given below:
Conversion rate.

Sales per affiliate.

Return On Investment(ROI).

Percentage of active affiliates.

Customer lifetime value (CLV) of customers from affiliate programs.
The Importance of Setting Goals and KPIs
It is crucial to set goals and key performance indicators (KPIs) to be successful as an affiliate marketer. Goals also help your business achieve short-term and long-term objectives.
NOTE: Instead of aimlessly adding affiliate links to blog posts, emails, and social media posts in the hope of making a sale, measuring KPIs can help you create an informed affiliate marketing strategy that results in success.
By regularly measuring your click-through rate, conversion rate, and earnings per sale, you can determine if your marketing strategy is going well or if you need to make small changes to see the results you want from your campaigns.
Pros and Cons of Setting up an Affiliate Marketing Program:
Affiliate Marketing Program has several pros and cons in various aspects. The basic pros and cons of an Affiliate Marketing Program are mentioned below:
Pros of Affiliate Marketing Program:
Low-cost business idea.
No expertise is needed.
Low investment costs.
Convenience and flexibility.
Marketing kit at right your disposal.

An effective method of driving traffic quickly.

No earning limit for Affiliate Marketers.

Facilitates partnerships.

Provides multiple sources of income.
Cons of Affiliate Marketing Program:
You don't control your competition.
You can't establish your customer base.
No guarantee of revenue.
Quantity approach.
It's possible to hijack affiliate links.

High competition.

Unreliable payouts.

Higher probability of Fraud.
How to Set up an Affiliate Program: Summary
To summarize how an Affiliate Program could be set up successfully, you have to perform the following tasks:
●       Decide which products you want to include in your affiliate program.
●       Decide on your affiliate pricing and commission rates.
●       Choose an affiliate management tool/application to set up your affiliate site.
●       Create high-quality content and supportive marketing materials.
●       Recruit your affiliate marketers.
Therefore, from the above-discussed article, it can be concluded that Affiliate Marketing in combination with Shopify is a step forward in the online business industry. One must enroll in such a highly demanded program to earn a fine livelihood and experience with one of the giants in the online industry such as Shopify.